🔍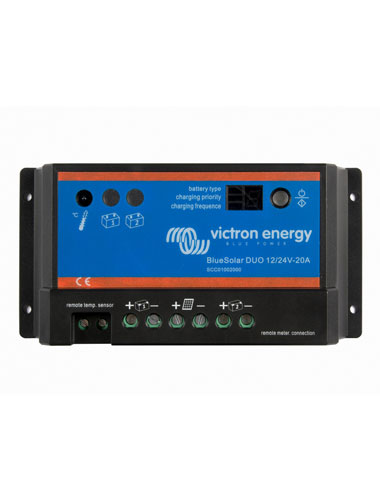 Victron Energy BlueSolar DUO 12/24V 20A Charger
Models: BlueSolar DUO 12/24V 20A IP20
DESCRIPTION 
Series pass Pulse Width Modulation (PWM) charge voltage control combined with a multistage charge control algorithm leads to superior charging and enhanced battery performance. The filtered PWM power control system uses highly efficient and reliable power MOSFET transistors.
REMOTE TEMPERATURE SENSOR 
A connection point for RTS (option) to remotely monitor battery temperature.
LOCAL TEMPERATURE SENSOR 
Measures ambient temperature. Battery regulation is adjusted accordingly.
BATTERY VOLTAGE
12/24V
DIMENSIONS
DUO 12/24v-20a 76 x 153 x 37 mm
2.99 x 6.02 x 1.32 inches
WEIGHT
DUO 12/24v-20a 0,18 kg