🔍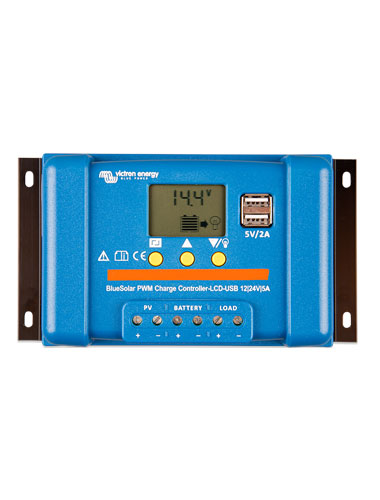 BlueSolar PWM Charge Controller LCD&USB
Model: PWM LCD & USB
LOAD OUTPUT
Over-discharge of the battery can be prevented by connecting all loads to the load output. The load output will disconnect the load when the battery has been discharged to a pre-set voltage.
LIQUID CRYSTAL DISPLAY
For status monitoring and set-up.
BATTERY CHARGE ALGORITHM
Preprogrammed algorithms for AGM, GEL, Flooded or LiFePO4 batteries (with internal BMS only).
BATTERY VOLTAGE
12/24V
DIMENSIONS
PWM LCD & USB 96 x 169 x 36 mm
3.78 x 6.65 x 3.74 inches
WEIGHT
PWM LCD & USB 0,15 kg
Description